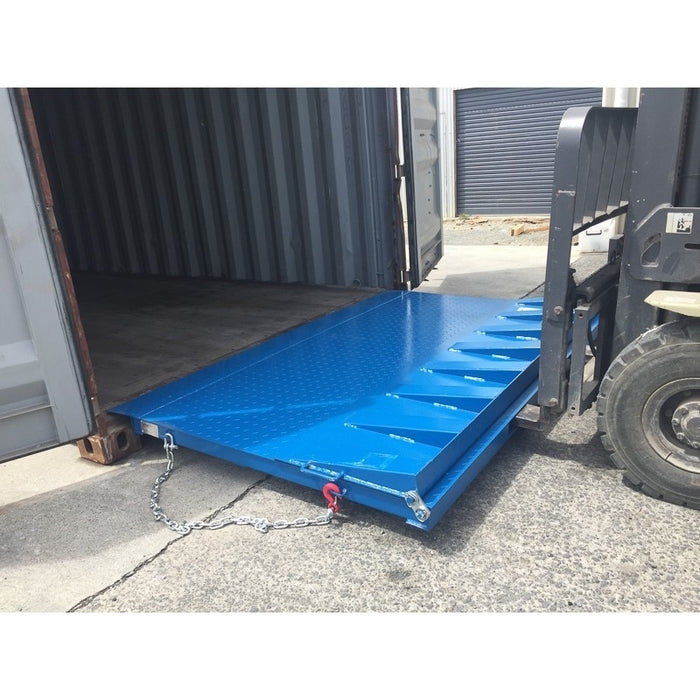 2-in-1 Container Ramp 6.5 Ton CERTIFIED (Refrigerated & Std)
Availability:
in stock, ready to be shipped
Original price
$1,500.00
-
Original price
$1,500.00
The Arrow 2-in-1 multi-functional container ramp is designed to work on all container types - both standard and refrigerated (reefer) containers. It also features an extended length that produces a shallow incline allowing the forklift to enter and exit more safely under load.
When the ramp is extended it's large base adds stability where ground may be uneven.  The product also includes forklift slots for easy placement around your yard.
Ideal Usage:
• Standard Containers (20ft or 40ft) - This ramp is ideal for when you need the incline from the container to be as shallow as possible. This allows for easier entry and exit from the container with your forklift.
• Refrigerated Containers (20ft or 40ft) - An ideal ramp for refrigerated containers due to the entry point being higher than standard containers.

Features:
• Fits standard and refrigerated containers.
• Suitable for container decks 75-200mm in height.
• Reinforced underneath with 6.3mm wall thickness box section.
Specifications:
Capacity: 6500kg
Width: 2200mm
Length: 2000mm
Fork Pocket Size: 165mm x 60mm
Fork Pocket Centre: 775mm
Net Weight: 295kg
Fully certified
24 Month Warranty