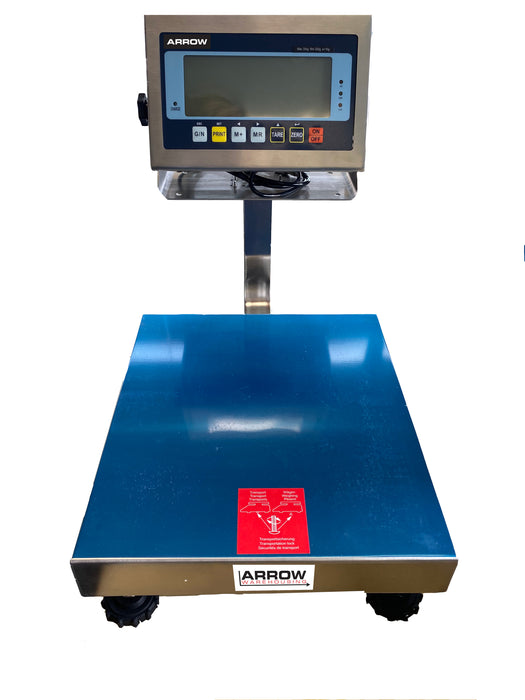 15kg Platform scales - Waterproof NZ Trade Approved
Availability:
in stock, ready to be shipped
Original price
$750.00
-
Original price
$750.00
These scales are TRADE approved for commercial use*.  The scales are IP65 waterproof and made of 316 Grade Stainless steel.  The scales weigh to a maximum capacity of 15kg within an accuracy of 5g
Detailed specifications:
25mm LCD display. White LED backlight 
12V AC adaptor / 6V internal rechargeable battery - up to 70 hours continuous use without backlight 
Max Capacity: 15kg 
Accuracy 5g
Tray Width: 32cm 
Tray depth: 36cm 
Display: LCD 
Construction : 316 Grade Stainless steel 
Waterproof rating: IP65
All our products include a 12 month warranty. We provide a full service backup on all our scales. We can also re-calibrate and repair where necessary. 

We are Arrow Warehousing and we supply NZ's largest logistics, food, retail and transport companies with our top quality industrial scales, pallet trolleys and container ramps. We are an **ISO 9001:2000 approved manufacturer**.
Do you need Trade Approved Scales for your business?  Read our blog article here.
*Certified Trade Approved scales are required by law if goods are sold by weight or measure. However not all scales can be issued a certificate of accuracy. Scale types must first be approved by the Secretary in accordance with regulations made under the Weights and Measures Act 1987. Once a scale or weighing equipment has been approved it is then issued what is called a TMU number. Scales or weighing equipment with existing TMU numbers are therefor able to be tested and certified by Accredited Personnel, allowing the equipment to be used for legal trade use.